Submitted by Sulekha Abdinasir Ali on
The core issue is: why are climate change considerations absent from the discussions about Amazon HQ2?
In September 2017, Amazon announced that it is going to create its second headquarters (HQ2) and invited cities to send their proposals. By the October 18 deadline, 238 proposals were in: from cities in the U.S., Mexico, and Canada, as well as by counties and even states!
Several analysts have provided their ranking of cities. Moody's Analytics lead the rating charge and published their top 65 cities for HQ2.
Interestingly none of the analysts include climate change issues in their rankings. We propose ranking cities on climate vulnerability and examine its overlap with Moody's ranking.
Bottom line: Focusing attention on specific attributes may produce different results for the ideal city for Amazon's HQ2.
Below is a breakdown of key points in the article:
What is Amazon looking for?
"Metropolitan areas with more than one million people; a stable and business-friendly environment; urban or suburban locations with the potential to attract and retain strong technical talent; communities that think big and creatively when considering locations and real estate options."
Business Analysts Make Recommendations
As amazon will be announcing their decision next year many analyst firms and media outlets have made recommendations. It began with Moody's analytics whose top 3 recommendations based off of their analysis were Austin, Atlanta and Philadelphia. CNN without revealing their methodology had their top 3 recommendations as Atlanta, Pittsburgh, and Toronto.  Finally The New York times based off of their analysis only had one city which was Denver. New York times Denver.
But where is climate change in these rankings? 
The surprising point that was brought up was how there seemed to be no consideration of how vulnerable these cities may be to climate change. "After all, sea level rise, extreme temperatures, drought, and floods would probably make it difficult for the projected 50,000 Amazon workers to function effectively in HQ2".
 "The map below depicts these billion-dollar extreme weather events and the proximate location of these cities".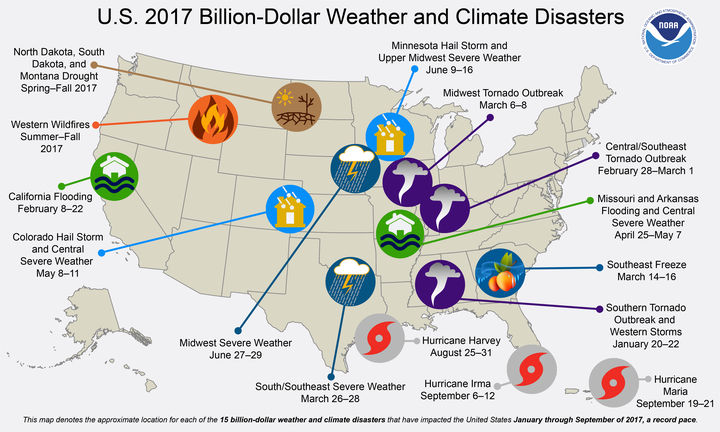 Suppose we include climate change in the rankings
"Table 1 presents the top 25 cities as per Moody's ranking and according to our climate vulnerability ranking. Top ten cities for each group are highlighted. Only two cities make it to the Top 10 in both:  Pittsburgh and Portland. This suggests that economic and business criteria probably do not help us to understand a city's vulnerability to climate change".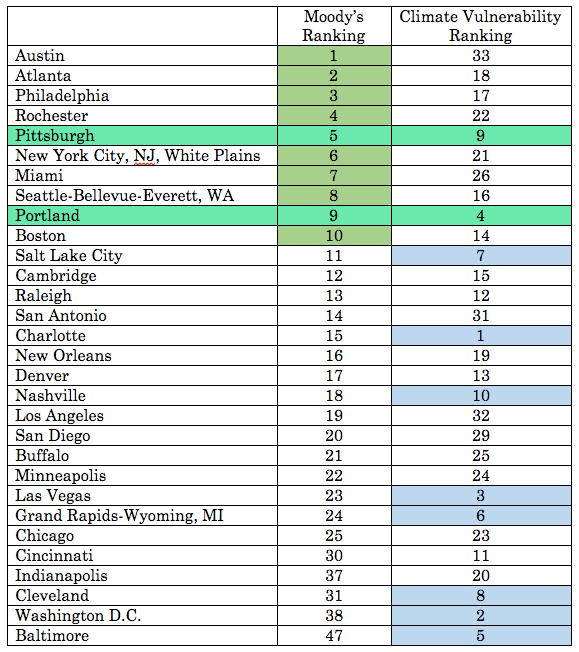 For the full article, please click here