Syllabus Description:
Introduction to Labor Studies:
The Struggle for Recognition and Meaningful Work
POLS 249/SOC 266/HSTCMP 249
Monday & Wednesday 8:30 – 9:50 am
MLR 301
Instructor: Mathieu Dubeau, Ph.C                                                                   Office Hours: M, W 10 -11 am
Office: Gowen 46
Email: mdubeau@uw.edu
TAs: Alicia Reese (AA, AB) and Dennis Young (AC, AD)
Description:
What is meaningful work? The vast majority of the human population will spend the bulk of their waking hours in the workplace; how do we begin to interrogate and evaluate the purpose and meaning of our own work while also attending to the historical struggle for labor's recognition? Our primary objectives in this course will be to historicize and normatively evaluate the struggle of various historical labor movements. We will develop a nuanced and robust body of knowledge that critically interrogates the battles to protect workers with a particular eye towards building intersectional solidarity among the working class. Only by understanding how these historical labor movements coalesce and help form our contemporary landscape of work can we begin to normatively evaluate and postulate greater forms of liberation.    
Course Readings:
All readings will be posted to Canvas.
Exams:
There will be two exams in this course, a mid-term and a final. Study guides will be circulated in advance.
Papers and Grading:
There are two papers in this course, one 3-page and one 5-page op-ed. The prompts for the two papers will be distributed in week two of the quarter. I suggest you begin writing these papers early on. Developing good argumentative writing is a lifetime endeavor. Start your papers well in advance so that you have time to show drafts to others and to revise them in light of feedback and self-critical reflection.
Paper 1 (3 pages): Due week 4
Paper 2 (5 pages): Due week 9
Paper 1:                       15%
Paper 2:                       25%
Mid-term                     20%
Final Exam:                 25%
Participation:               15%
Grading Appeals
If you have inquiries about a grade, please follow the steps listed below:
Carefully read all comments.
Wait 24 hours before you contact your TA.
Provide a written statement to your TA within one week of receiving your grade, explaining your reason(s) for contesting it and why you deserve an alternate grade.
Bring the exam/paper in question, along with a copy of your statement, to me and/or TA during office hours (or by appointment).We will re-read the material, re-grade it if appropriate, and return it to you with comments during the first lecture of the following week.
Note: When an exam or paper is "re-graded" it will be completely reevaluated, which means that your grade can go up or down as a result.
Academic Integrity:
Cheating and plagiarism are offenses against academic integrity and are subject to disciplinary action by the University. Plagiarism is copying someone else's work and presenting it as your own (by not attributing it to its true source). If you are uncertain what constitutes plagiarism, please ask me.
Keys to Succeeding in this Course:
Attend lecture.
There is a reading assignment attached to each lecture. Do this reading before If you don't do the reading before lecture, you won't know what's going on; even worse, you might mistakenly think that – having attended lecture and "understood" what was said – you do know what's going on, even though- not having done the reading – your "understanding" from lecture is superficial and therefore misleading.
Much of the reading is tough-going. And even the reading that doesn't seem tough-going is trickier than it first appears. So don't try to do all of each session's reading in one sitting. Break it up into two or three chunks that you read 45 minutes to an hour at a time. This requires advance planning, but you'll understand more and do better in the course as a result.
Participate in lecture. I often conduct large-group discussion, and you will achieve greater command of the material if you ask questions about points that confuse you and participate in debates about the material's meaning and implications.
Respect for Diversity:
It is my intent that students from all diverse backgrounds and perspectives be well served by this course, that students' learning needs be addressed both in and out of class, and that diversity within the classroom be viewed as a resource, strength and benefit. I will strive to present materials and activities in ways that respect and affirm such differences. I expect the same of you: while discomfort is an important part of the learning process, nobody should be made to feel unsafe in this classroom. I will not create or allow space for offensive language or behavior related to differences in gender, race, age, national origin, ethnicity, gender identity and expression, immigration status, intellectual and physical ability, sexual orientation, income, faith, socio-economic class, family status, primary language, military experience, political identification, cognitive style, and communication style.
Resources and Opportunities
Harry Bridges Center for Labor Studies
Smith Hall, M266 & M268 | Office hours: Tues-Fri, 9AM-3PM
The Harry Bridges Center for Labor Studies promotes the study of labor by supporting research, teaching, and community outreach. The Center is also a resource for students who are looking to learn more about the study of labor, or who are looking to find ways to become involved in the labor movement. Please consider utilizing the Bridges Center as a source of help, feedback or information as you plan your final papers and/or participate in service-learning.
For more information, resources, and upcoming events in Labor Studies, feel free to visit the Harry Bridges Center for Labor Studies Office in Smith Hall, Rooms M266 and M268 (office hours: 9AM-3PM), or visit the Center website: http://labor.washington.edu
You may also sign-up for the Bridges Center e-mail newsletter, "Labor Talks," sent once a month with the latest Labor Studies news, events, grant and scholarship opportunities, and more. To receive the newsletter, sign-up here: http://labor.washington.edu/contact/
Like us on Facebook: https://www.facebook.com/UWBridgesCenter/
Labor Studies Minor
The Labor Studies minor brings together a series of courses on labor in core social-science departments. It provides students an interdisciplinary program of study focusing on the importance of labor to the economic, social, political, and cultural evolution of modern societies.
To complete a Minor in Labor Studies, students must complete the following requirements:
HIST 249/POL S 249/SOC 266: Introduction to Labor Studies (This class!) or HISTAA 353: Class, Labor, and American Capitalism
20 additional credits in courses relating to labor studies, with no more than 10 credits in any one department. For a full list of classes that qualify, visit: http://labor.washington.edu/resources-courses.html
A minimum 2.0 grade in all classes applied towards the Labor Studies Minor.
Best Undergraduate Paper in Labor Studies Prize
Papers written for this class can be submitted for the Best Undergraduate Paper Prize awarded every year by the Harry Bridges Center for Labor Studies, which recognizes the best paper written by a UW student on a labor-related topic during the current academic year (2018-2019). The prize is sponsored by the Pacific Northwest Labor History Association (PNLHA). Each winning paper will garner its author a prize of $500 and a free year-long membership in the PNLHA.
Papers may focus on any dimension of United States or international labor, including class relations, social conditions, working-class culture or politics, work and gender, work and race/ethnicity, unions, and comparative labor relations. They may be e-mailed to hbcls@uw.edu .
Deadline: End of Spring 2019, although papers may be submitted at any time.
Labor Studies Undergraduate and Graduate Student Scholarships
The Bridges Center provides financial assistance annually to students studying/involved in labor, through a wide variety of scholarships, viewable here: https://labor.washington.edu/scholarships-and-prizes.
Scholarship funding ranges from $1,000 to $6,000 and caters to a broad range of student interests and needs, from year-long funding for students pursuing a career in caring labor or labor-relations, to 2 year scholarships for incoming freshmen and transfer students. Students who apply to our scholarships do not need to be Labor Studies Minors, but must have an academic and/or personal interest in labor, or labor-related issues.
If you have an interest in a labor-related topic, but are not sure if you qualify for Bridges Center funding or would like help crafting your application, please email hbcls@uw.edu to schedule an advising appointment. Applications are currently open and will remain so until Tuesday, May 28, 2019.
COURSE SCHEDULE
I reserve the right to alter reading assignments during the term.
Week 1:
Mon. April 1st, Lecture 1: Syllabus day
Review syllabus and discuss course expectations, assignments, and goals.
What is a good job? What is a bad job?
What jobs have you held? What are your hopes for the future?
What is Labor Studies and how does it help us understand issues around work?
Wed. April 2nd, Lecture 2: The Labor Theory of Value and the Employment Contract (Liberalism)
John Locke – Second Treatise of Government (Ch. 1-5, 7-9)
Robert Nozick – Equality, Envy, and Exploitation
Tibor Machan - Human Rights, Workers' Rights, and the "Right" to Occupational Saftey 
Week 2:
Mon. April 8th Lecture 1: Critical Interpretations and our Introduction to Power (Marxism)
Karl Marx – 1844 Philosophic and Economic Manuscripts (excerpts)
Alienated Labor Pg. 85 - 95
Jon Elster – Self-Realization in Work and Politics: The Marxist Conception of the Good Life
First Paper Assigned
Wed. April 10th Lecture 2: How People Work
Studs Terkel, "Introduction," "Mike Lefevre: Steelworker," and "Dolores Dante: Waitress" from Working: People Talk About What They Do All Day and How They Feel About What They Do (1972)
John Bowe, Marisa Bowe, Sabin Streeter, Gig: Americans Talk About their Jobs, excerpts.PDF
Jill Andresky Fraser, White Collar Sweatshop. Chapter 1 "The Pace was Insane: Less Time, More Stress" PDF
Corinne Goria, Invisible Hands: Voices from the Global Economy, chapters on Fausto Guzman and Li Wen.
Corey Robin, "Lavatory and Liberty: The Secret History of the Bathroom Break" http://coreyrobin.com/2012/03/08/lavatory-and-liberty-the-secret-history-of-the-bathroom-break/
James Chamberlain – Undoing Work, Rethinking Community, Chapter 1
Week 3:
Mon. April 15th Lecture 1: The All-Inclusive Union – The IWW
Eugene V. Debs – "Industrial Unionism" entire speech
Wed. April 17th Lecture 2: Guest Speaker from City of Seattle Office of Labor Standards
Week 4:
Mon. April 22nd, Lecture 1: Pre-New Deal
Alex Gourevitch, - "Our Forgotten Labor Revolution" Jacobin 2015. https://www.jacobinmag.com/2015/08/knights-of-labor-jim-crow-labor-populism-reconstruction/
 Kim Voss, Rick Fantasia Hard Work: Remaking the American Labor Movement, Chapter Two "An Exceptionally Hostile Terrain
Wed. April 24th , Lecture 2: Seattle General Strike of 1919
Colin M. Anderson – "The Industrial Workers of the World in the Seattle General Strike"
Sheila M. Shown – "The National Press & the Seattle General Strike"
First Paper Due in Sections
Week 5
Monday April 29th, Lecture 1:  At the River I Stand
Show Documentary and Review for the Mid-Term
Wednesday May 1st, Lecture 2: Mid-Term Exam
Week 6:
Monday May 6th, Lecture 1: Civil Rights and the Dignity of Labor
Martin Luther King Jr. – "Speech to Local 1199" (1968)
Martin Luther King Jr. – "Speech to AFSCME" (1968)
Martin Luther King Jr. – "Mountaintop Speech" (1968)
Wednesday May 8th, Lecture 2: Wagner Act, Taft Hartley, and Post World War II Decline
Benjamin Collins, "Right to Work Laws: Legislative Background and Empirical Research", Congressional Research Service 2012. http://digitalcommons.ilr.cornell.edu/cgi/viewcontent.cgi?article=1984&c...
Joel Rogers, "Divide and Conquer: The Legal Foundations of Postwar U.S. Labor Policy," in Christian Joerges and David M. Trubek, eds., Critical Legal Thought: An American German Debate.
Week 7:
Monday May 13th, Lecture 1: Immigration and Work in the 20th Century
Rick Baldoz "Valorizing Racial Boundaries: Hegemony and Conflict in the Racialization of Filipino Migrant Labor in the United States", Ethnic and Racial Studies 2004
Mai Ngai, Impossible Subjects: Illegal Aliens and the Making of Modern America, Chapter 4, "Braceros, 'Wetbacks', and National Boundaries of Class".
Cesar Chavez, "Wrath of Grapes Boycott Speech" PDF
Wednesday May 15th, Lecture 2: Guest Speaker
Week 8:
Monday May 20th, Lecture 1: The Conservative Response to Labor Power
Lewis H. Powell, "Attack on the American Free Enterprise System" (The Powell Memo). http://www.pbs.org/wnet/supremecourt/personality/sources_document13.html
 John Logan, "The Union Avoidance Industry in the United States." British Journal of Industrial Relations 2006
Wednesday May 22nd, Lecture 2: Explaining Wages and Inequality
Joseph Stiglitz, The Price of Inequality, Introduction
Jared Bernstein, "Wages in the United States: Trends, Explanations, and Solutions" http://link.springer.com/chapter/10.1007%2F978-3-319-25991-8_6
Jake Rosenfeld, Patrick Denice, and Jennifer Laird, "Union decline lowers wages of nonunion workers: The overlooked reason why wages are stuck and inequality is growing" EPI Report available at www.epi.org.
Mathieu Dubeau & Lee Fiorio, "Battleground Seattle: A Clash of Classes and a Brewing Perfect Storm" (2018) http://newpol.org/content/battleground-seattle
Week 9:
Monday May 27th, No Lecture (Memorial Day)
Wednesday May 29th, The Fight for $15 and the Minimum Wage Debate
Guest Speaker: Jonathan Rosenblum
Jonathan Rosenblum – "Fight for $15: Good Wins, but Where did the Focus on Organizing Go?" (2017)
Michael Reich – "The Ups and Downs of Minimum Wage Policy: The FLSA in Historical Perspective" (2015)
Nick Hanauer – "The Pitchforks Are Coming…For Us Plutocrats" from Politico (2014)
Molly Ball – "A Plutocrat's Case for Raising the Minimum Wage" in The Atlantic (2016)
Week 10: Labor Struggles in the 21st Century
Lecture 1: ACTL: Guest Speaker Michael McCann
Lecture 2: Contemporary Labor Movements and review
Ellen Friedman, "What's Behind the Teacher Strikes" in Jacobin (2018)
Last readings will be updated.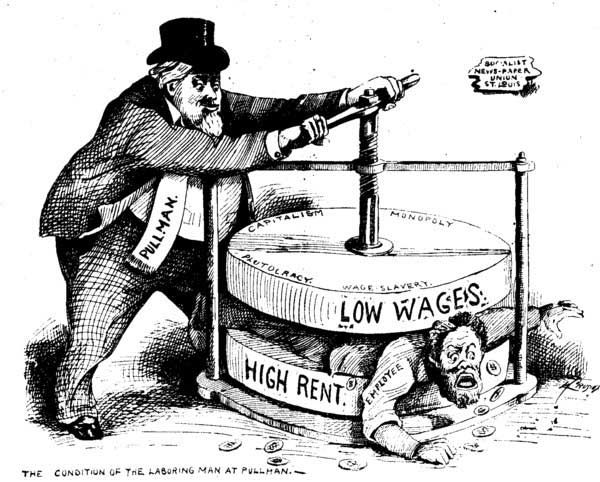 Catalog Description:
Conceptual and theoretical issues in the study of labor and work. Role of labor in national and international politics. Formation of labor movements. Historical and contemporary role of labor in the modern world. Offered: jointly with HSTCMP 249/SOC 266.
Department Requirements:
American Politics Field
Political Economy Option
GE Requirements:
Individuals and Societies (I&S)